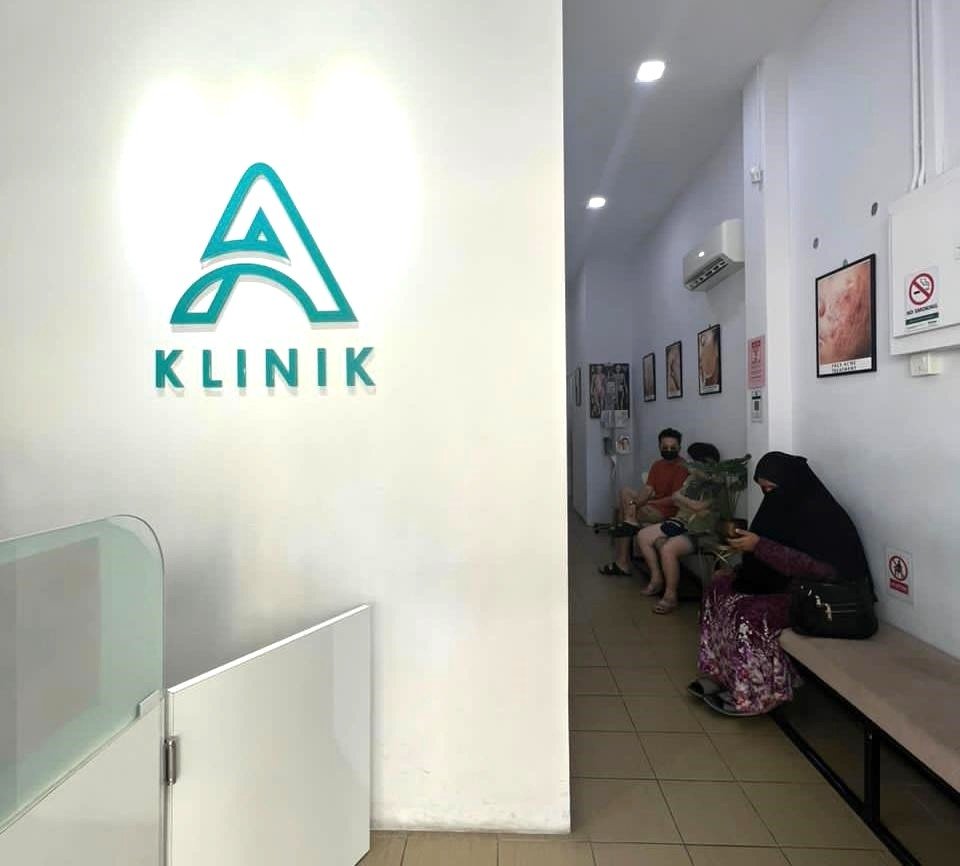 12 Apr

Skin Clinic Penang: Get the Best Results from Our Treatment | A Klinik

If you're looking for a skin clinic Penang that can help you achieve healthy, beautiful skin, you're in the right place. Our clinic is staffed by expert dermatologists and aestheticians who are dedicated to providing the best possible care and results. We offer a range of customized treatments to address a variety of skin concerns, from acne and pigmentation to wrinkles and aging skin. In this blog post, we'll explore some of the treatments we offer and how they can help you get the best results possible. Whether you're looking for laser therapy, facials, or personalized skincare advice, our team is here to help. Read on to learn more about our skin clinic in Penang and how we can help you achieve your skincare goals.
Who Are We?
A Klinik is a premier skin clinic that was established in 2018 by founders Dr. Aaron Low and Dr. Angeline Hun. Our clinic offers a comprehensive range of services, including general medical care, health screening, and dermatology skin services. Conveniently located in Jelutong and Bayan Lepas, Penang, our experienced team of doctors and staff are highly qualified and passionate about helping you achieve optimal skin health. Whether you're dealing with acne, pigmentation, wrinkles, or other skin concerns, our best skin clinic in Penang is equipped with the latest technology and techniques to deliver the best possible results. Trust us to help you achieve the healthy, beautiful skin you deserve.
What Treatment Does Our Clinic Offer?
At A Klinik, we provide a comprehensive range of professional skin care treatments tailored to all ages and skin types. Our services include pediatric dermatology, aesthetic and laser therapy, skin cancer screening and treatment, and solutions for hair, nail, and skin problems. Our experienced dermatologists offer expert care for a wide range of skin issues, including allergies, eczema, urticaria, fungal infections, psoriasis, skin lumps/cysts, warts, hair and scalp issues, nail issues, STDs. As the best skin clinic in Penang, we understand that some skin treatments can be expensive and prevent people from seeking the care they need. That's why we strive to offer efficient and reasonably priced treatments that can restore your healthy skin. We take a strategic and methodical approach to each case, minimizing wasteful expenses while delivering optimal results. Trust us to provide the highest quality skin care at a fair price. In addition to our treatments, we also offer personalized skincare consultations to help you develop a customized skincare routine that meets your specific needs. We carry a range of high-quality skincare products from trusted brands, and our experts can help you select the right products for your skin.
Why Do We Need To Go To The Skin Clinic?
There are several reasons why visiting a skin clinic can be beneficial for our skin health. Here are some of the main reasons:
Diagnosis and Treatment
A skin clinic has experienced dermatologists who can diagnose and treat a range of skin conditions, including acne, rosacea, psoriasis, eczema, skin cancer, and many others. These professionals have the knowledge and expertise to provide customized treatment plans that can help manage and even cure these conditions.
Professional Advice
The dermatologists and aestheticians at a skin clinic can provide valuable advice on skincare routines, products, and ingredients. They can recommend products that are best suited for your skin type and can help prevent or manage skin concerns.
Advanced Technology
Skin clinics are equipped with advanced technology and equipment to provide various skin treatments, including laser therapy, chemical peels, and micro-needling. These treatments can address a wide range of skin concerns, from fine lines and wrinkles to hyperpigmentation and acne scarring.
Early Detection
Visiting a skin clinic can help with the early detection and prevention of skin cancer. Dermatologists can perform routine skin cancer screenings and identify any suspicious moles or lesions that may require further examination.
Confidence Boost
Skin concerns such as acne, pigmentation, or fine lines can negatively impact one's self-esteem and confidence. By seeking treatment at a skin clinic, individuals can improve their skin's health and appearance, leading to a boost in confidence and overall well-being.
Skin Clinic Penang Conclusion
In conclusion, A Klinik Penang is the skin clinic in Penang for all your skin concerns. Our experienced dermatologists and staff are dedicated to providing the highest quality of care and treatment for our patients. Whether you need general medical care, health screenings, or dermatology services, we have a range of treatments to meet your needs. From acne to skin cancer, our team has the knowledge and expertise to diagnose and treat a variety of skin conditions. Additionally, we offer advanced technology, personalized treatment plans, and affordable pricing to ensure our patients get the best results possible. Don't wait any longer to take care of your skin's health and appearance. Contact us today to schedule an appointment and experience the difference A Klinik Penang can make for your skin.
Contact us today to get started. Click the button below!
Enjoyed this blog? For more blogs regarding skin treatments, check out our blogs!
Make An Appointment