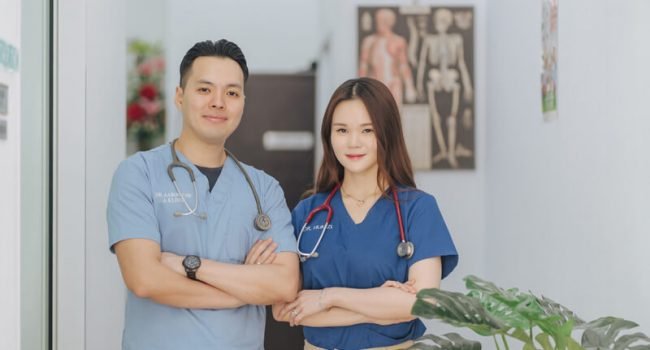 16 Dec

Skin Doctor in Penang | Aesthetic Doctor – A Klinik

A Klinik is a one-stop healthcare center for general medical, health screening, and dermatology skin and aesthetic services. A Klinik was established in 2018 by two skin & aesthetic doctors in Penang which is Dr. Aaron Low and Dr. Angeline Hun. They aim to bring good health and good skin to everyone in Penang. Let's read this blog to get to know more about these two professional skin & aesthetic doctors in Penang!
Skin & Aesthetic Doctor Penang In A Klinik
Dr. Aaron Low
Dr. Aaron Low is the medical director and founder of A Klinik. After obtaining his Medical Degree (M.D.), he then worked and underwent training at various hospitals and clinics throughout Malaysia. He completed his housemanship in Hospital Sibu Sarawak and subsequently served in a government clinic in Sibu. He has also served in various government clinics in Johor and Penang as well before venturing into his own private practice. This gave him vast experience and knowledge in general healthcare, dermatology, and skin problems.
Dr. Aaron Low has successfully obtained Medical Aesthetic Certificate (MAC), as well as various skin and dermatological training and courses. He is very passionate about general health, skin, and dermatology. He is knowledgeable and skillful in dermatology and has a lot of experience treating many skin and aesthetic problems.
Dr. Aaron Low is someone who welcomes challenges and is always keen to update himself with the latest evidence-based medical sciences when it comes to treatment for clients under his care. He believes in giving the best care and treatments to his clients. His friendliness and warm-hearted personality are sure to make you feel at ease during consultations and treatments with him. Dr. Aaron Low is known for his patience, dedication, and attention to detail while addressing each individual's skin and aesthetic concerns.

Dr. Angeline Hun
Dr. Angeline Hun is the medical director as well as co-founder of A Klinik. She graduated from International Medical University, Kuala Lumpur with a Bachelor of Medicine and Bachelor of Surgery (MBBS) Degree. Her passion for skin and aesthetics started even during medical school, where she had undergone various dermatological and aesthetic training abroad including in the United States of America under a renowned dermatologist, where she gained vast experience and knowledge in the dermatology field.
Dr. Angeline Hun completed her housemanship training at Hospital Pulau Pinang. She then worked in Dermatology Department and has also served in a health clinic in Penang. This gave her vast experience and knowledge in general healthcare, dermatology, and skin problems. She developed important knowledge when it comes to anything skin related. She has learned what is the best treatment when it comes to the needs and cares for your skin. She is knowledgeable and skillful in dermatology and has a lot of experience treating many skin problems. Understanding and appreciating the importance of how skin can play such an important role in our life, Dr. Angeline Hun has also successfully obtained Medical Aesthetic Certification (MAC) and attended various dermatology and skin conferences and training. Coupled with her perfectionist personality, attention to detail and love for being involved in hands-on procedures, her passion for skin and dermatology grows day by day. Dr. Angeline also has a special interest in skincare and has since launched her own line of skincare which is  A Skincare.
Why us?
A Klinik strives to create a warm and welcoming environment while providing the best skin and health services possible to all of you. Our team of friendly doctors with years of expertise and excellent certifications is formed by the greatest skin doctors in Penang. Dr. Aaron and Dr. Angeline are ready to serve all your skin needs with utmost care.
Whatever your skin and medical conditions are, A Klinik Penang is here to help! If you still searching for a skin and aesthetic doctor in Penang, our A Klinik Penang can help you with any of your skin concerns. Please contact us if you have any concerns or are unsure about anything.
Make an appointment with us and experience health care in advance! We look forward to welcoming you to our clinic and will aim to give you the best quality service you deserve. Let's work together now to achieve healthy skin and body!
A skin specialist is a professional who specializes in disorders of the skin, nails, and hair. Most people will experience either a minor or severe skin condition. To receive the best care, those with skin problems should consult with a skin specialist.
Contact us today to get started. Click the button below!
Enjoyed this blog? For more blogs regarding skin treatments, check out our blogs!
Make An Appointment